Where do I begin?

This trip is by far one of the worst I have ever been on. (And there have been quite a few runner ups for that prized spot!) Every step revealed yet another massive obstacle to be overcome, another hurdle in my path to journalistic success and a sun soaked Miami Beach vacation. By the time I returned home, my life had been thrown in complete disarray and I am still struggling to put out the fires. I may never vacation again. Yeah, it was that bad. Uncle Q has a story that rivals Homer's Odyssey! OK, maybe it's not that bad, but its pretty f'in close. Are you ready? This is going to be a long one.

03/25/05------0245 hours-----Albany NY
As I do a final check of everything I need as I get ready to go, I have a sinking feeling that this trip is not a good idea. The objective is to get to Miami to interview some of the movers and shakers at this years WMC and M3 conferences and hopefully sell them to some magazines. I have a few people that I hoped to catch up with, but being that the conference ends tomorrow, and the Ultra Festival will be going on for a couple of hours already by the time I make it there, I was really starting to regret booking the trip. But I was already in too deep, with people expecting me in Tennessee and Miami. So I threw everything in my two overnight bags, and hit the door.

While driving down to LaGuardia Airport, I really consider pulling over and going back home, calling everyone in the morning and apologizing for standing them up. The fact that I am having cold feet so late in the trip insures that I will not get a penny back from my AOL Last Minute Deal package. And as I start to do a quick mental rundown of my finances, I really want to pull he plug on the trip. The thought of the Miami sun was way too powerful to ignore, especially as it is starting to snow yet again in Albany. So I continue on my journey while watching my car's temperature gauge start to inch up slowly.


It's been a few years since I moved out of the NYC area, I failed to take into consideration that rush hour starts around 5am. Soon as I got to the GW Bridge, I hit traffic and knew I was in trouble. As I felt my blood pressure start to match my slowly overheating car temperature, I finally pulled in LaGuardia, absent mindedly parked in he short term parking lot (more on this later), and ran into the terminal. The aforementioned Delta agent informed me that I would indeed miss my flight, but punched in some number and got me on the next flight out..at 9:35. No problem, if a 3 hour wait is the worse I'll have to deal with, I can handle that. So I get my boarding pass, take off my stinky shoes at the security check-in, and wait for my flight.


03/25/05---1430 hours—Cincinnati, OH
For some strange reasons, something told me to look again at my itinerary. I didn't really look it over after I booked the package. I just saw that I had a great deal, round trip flight to Nashville, car rental, and hotel in Nashville. I couldn't remember the hotel's name, so I checked the package again and found….NO HOTEL! With 20 minutes until my Nashville flight began boarding, I called AOL to see what the problem was. Of course they were no help at all, telling me I did NOT book a hotel, even though the package does include one. They told me it was my fault for not picking a hotel, which I could not understand as they also said the hotel came with the package plan automatically. After listening to the AOL customer service rep talk in circles for about 15 minutes, they put me on hold. I hung up and caught my flight. It was a pain, but not a total loss, as I had planned to drive to Miami anyway. It was just another sign that I should have listened to my gut and stayed in Albany.

03/25/05---1830 hours-----Nashville, TN


Finally in Nashville, I step to the Hertz car rental, drop a $50 for the deposit on the 2005 Ford Mustang (yesssirr!), pick up my sister Ebony and her man Lyondell, and hit the road. This is the beginning of the fun part of the trip, riding clean through Tennessee-Georgia and Florida, taking pictures, laughing, watching "Along Came Polly" (let it rain!), "Starsky and Hutch" (Do it..do it, just do it!) and just enjoying our last minute road trip. We were all excited and couldn't wait to get to Miami.

03/26/05------1000 hours----South Beach, Miami
A little later than we expected, we pull up on Collins Avenue. Everyone wanted to get to the hotel, but I just had to check the strip real quick. Plus I figured we wouldn't be able to check in until at least noon so we cruised South Beach a bit. When I called the hotel to get directions, I got the next surprise of the trip. The hotel is a half hour drive away. Not too bad, but not the greatest news to people who have been driving all night. After getting lost a few times, we find our hotel and are told we cannot check in yet. UGHHH!! So we eat lunch and about 1 hour later we get our room and everyone passes out.


03/26/05------1800 hours ----South Beach, Miami
After everyone took a nap, showered and got dressed, we hit South Beach. At this point I had all but given up on he idea of catching up with anybody, as I knew the Ultra Festival was almost over! I figured, the heck with it, let me relax and have fun down her with my sister. We did have fun too, driving up and down Washington and Collins Avenue. I was supposedly on a few list at some parties, but I wanted to entertain my sister and Lyondell, as they had never been to Miami.


So we tried to get into the DJ Clue party at State, but they were beating fools in the head! $50.00 a pop. So we went to Sobe to hear Kid Capri. From the size of the crowd, I think everyone else who wanted to hear hip-hop did the same that night. It was tight! (I would have pictures to post, but my sister has that camera…look for the pics soon!) Anyway, we posted up in that spot until I feel asleep on one of the sofas in the back. Some girl plopped down next to me, asked me if I was ok, and couch danced with me to some old 2 Live Crew. After a few songs, I got up, found Ebony and Lyondell and we left.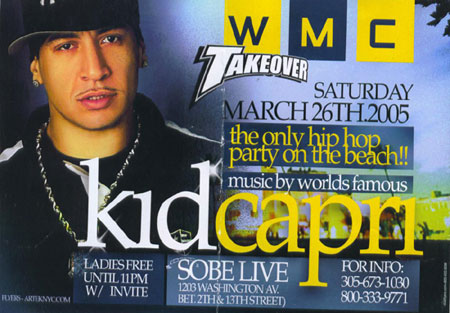 03/27/05-------1500 hours -----Miami Fl
After we checked out of the hotel, we hit South Beach one more time, to get some more loot, eat lunch and get ready for the big trip back. I really did not want to leave. One of the reasons that I love South Beach is that it seems like its Fantasy Island or something. Nothing looks real to me, and the sight of the beautiful people driving beautiful cars in a beautiful setting is very surreal. It's like stepping out of a dark noir film into the blinding color of the Land of Oz. I did not want to return to the grey reality of my life so quickly. But return we did, and grey it was!


To be continued------------