The New York Times calls T.O.K. "the word's greatest dancehall-reggae boy band" with good reason. With their blend of harmony and dancehall toasting, the young group continues to win new fans worldwide. With their past hits like "Gal You Ah Lead" & "Hit 'Em Hit", & "My Crew, My Dawg" paving the way, the Jamaican group has returned with their new CD, "Unknown Language".

The CD has been in stores since June, and judging from the rave reviews it has gotten so far, several songs off the CD are sure to be on your favorite DJ's play lists for a while.
The lead song by far is "Footprints" a song inspired by the classic Mary Steven's poem. It has since become an anthem for anyone who has gone through tragedy. The song continues to be a radio hit nationwide, and the CD has a few other radio ready cuts up it's sleeve.

Reggaeton/hip-hop star Pitbull teams up with the Taking Over Kingston crew, on "She's Hotter". "Tell Me If You Still Care" borrows the S.O.S. Band's famous song for a nice R&B twist. "Hey Ladies" has more than enough energy for your club dance floor, while "Survivior" takes the same riddim Sean Paul rode on "We Be Burning". "Gal You Ah Lead" is on here as well, in case you didn't get it the first time around, as is the pure fire riddim of "Neck Breakers". All in all, T.O.K. have not only taken over Kingston, but the entire world with this new one.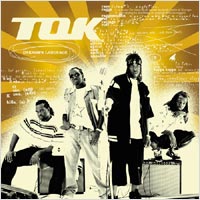 Final Verdict-T.O.K. "Unknown Language"= The official word in the new dancehall swing! Nuff respect!

Links:

"Footprints" audio page

T.O.K. Website

TOK garners second Boom Shot nomination in Vibe Awards
Kevin Jackson, Jamaica Observer writer
Friday, October 14, 2005

T.O.K. Yahoo page
http://music.yahoo.com/ar-304632---T.O.K.